Mowing, Spraying & Seeding
Mowing, Spraying & Seeding
Mowing

The Agricultural Service Board of the County performs roadside mowing along subdivision roads, lagoon sites, solid waste transfer stations and in Hamlets twice per season with a 10-foot mower.

Roadside mowing is performed along local roads as time permits.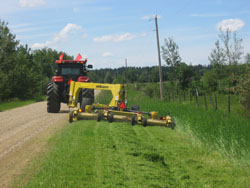 Mainroads is responsible for mowing along all primary and secondary highways.


The County of Wetaskiwin is currently seeking a Request for Proposal (RFP) for Roadside Mowing. The Submission Deadline is March 3, 2021 at 2:30 p.m. Queries can be directed to Mr. Stephen Majek, Director of Agricultural Services at 780-361-6226. To obtain an RFP package please contact Carmen Reimer at 780-352-3321 or via email. Due to COVID-19 there will be no public opening of the proposals.
Spraying
The County of Wetaskiwin follows a 3-year rotation for spraying along the roadside ditches for the control of noxious and prohibited noxious weeds.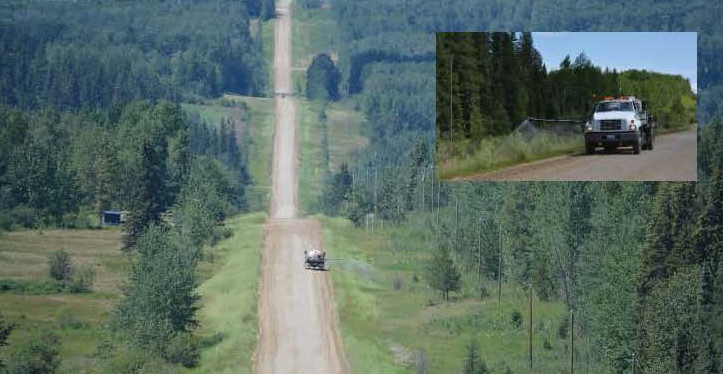 The rotation is as follows:
2020 -

All north/south roads, south of Highway 13

2021 - All east/west roads


2022 -

All north/south roads, north of Highway 13
Other roads may require spot spraying throughout the County, not mentioned above.
Mainroads is responsible for spraying along secondary highways.
Note: Registered pesticides used will be Milestone (Aminopyralid), Aspect (Picloram + 2, 4-D), Escort (Metsulfuron Methyl), Garlon XRT (Triclopyr
), Navius (Metsulfuron-methyl + Aminocyclopyrachlor) and Truvist (Chlorsulfuron + Aminocyclopyrachlor)
.

No Spray Agreement
Under the No Spray Agreement landowners will pay for 1 sign ($75 per sign plus GST) and the County will provide the 2nd sign. The County of Wetaskiwin will be responsible for sign installation. To obtain the No Spray Agreement you can attend in person at the County of Wetaskiwin Administration Office or click on the link below.
Anyone who does not wish to have their roadsides sprayed or any particular portion of their roadside, must complete a
No Spray Agreement (PDF)
at the County of Wetaskiwin office prior to May 15th. The landowner then accepts the responsibility for the control of weeds on the portion of the roadside indicated on the form. Once an agreement is in place, the Do Not Spray Policy and Agreement must be renewed annually, by May 15th. A copy of the renewal form is as follows:
Renewal Form
.
Click here
to see a copy of the Do Not Spray Policy.
Seeding
The County of Wetaskiwin seeds newly constructed, regraded, clay capped or shoulder pulled roads. The County uses certified seed to prevent the spread of weeds. These projects are completed in conjunction with the Public Works Department.
Should you wish to purchase Grass Seed, please
click here
for a listing of Companies where Grass Seed can be purchased.