Fire Services
Protecting Life & Property
The standard of care for fire services is the protection of life and property. The duty of care is to ensure our firefighters are trained and have the proper equipment to fulfill these requirements. The County of Wetaskiwin has
Bylaw 2019/08 (PDF)
for the purpose of establishing and operating the County's Fire Services, providing fire protection to the County and the recovery of fire protection charges.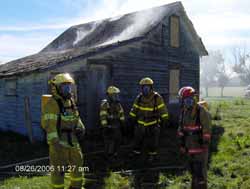 For the purpose of identifying the emergency services, the County of Wetaskiwin Number 10 Fire Services is authorized to provide and identify the level or standard to which each service will be performed.
Fire Departments
The County of Wetaskiwin includes 5 fire protection areas, which are serviced by 6 different fire departments:
Buck Lake / Alder Flats Fire Department
Millet Fire Department
Mulhurst Bay Fire Department
South Pigeon Lake Fire Department
Wetaskiwin Rural Fire Department
Winfield Fire Department
Capital Equipment Upgrades
All of the fire departments plan and upgrade equipment on a yearly basis; these capital upgrades and new purchases are planned on a 5 year basis. Capital purchases are also supported by the County through the allowance of departmental over expenditures paid back to the County over a predetermined period, usually a 5 year term. Funding is established with a fire zone mill rate in each
Fire Protection Zone (PDF)
.
Administration & Funding
County fire protection is provided by a cross section of both County departments and agreements for service with departments in other municipalities. The departments are administered by a Board of Directors and are funded through user fees and a fire mill rate for capital purposes. In addition to capital costs which include new fire halls, equipment and fire trucks the County provides an additional annual operational fire grant to each fire department.
User Fees
All fire departments charge a user fee when responding to a fire call these fees are uniform throughout the County and are $400 per unit, per hour. These charges are authorized by
Bylaw 2019/08 (PDF)
.
Any disbursements or expenses incurred by the fire contractor or the municipality in the provision of fire protection, including but not limited to the hiring of independent contractors to provide services and/or equipment will be charged, according to
Bylaw 2019/08 (PDF)
, Schedule B.
If fire protection charges levied against a County landowner for an incident within the County exceeds $10,000 the County may waive any charges in excess of the $10,000, provided that the person to whom the charges are levied has complied with conditions as outlined in
Bylaw 2019/08 (PDF)
.
Check with your insurance company to ensure your policy includes fire-fighting insurance.